Package Design Guide
STEP SIX: Consider Vibration Effects
For most products, a package that provides protection against mechanical shock during shipment is all that is required. There are some products, however, which are known to be susceptible to damage from vibration they might experience during transportation.
Every mode of transport subjects the packages being shipped to some amount of vibration at various frequencies. In order to provide products which are prone to vibration damage with protection against such effects, it is essential to determine the natural frequency of any component which is prone to vibration damage, and compare it against the vibration characteristics of your package design.
Every cushioning system has a range of vibrational frequencies in which it amplifies vibration and passes on a more severe vibration to the packaged product than it receives from the transport environment. At frequencies lower than the amplification range, the cushion will pass the vibration on to the packaged product essentially unchanged. In such cases, the packaged product is said to be directly coupled to the external container.
At frequencies higher than the amplification range, the cushion will attenuate the vibration, that is, it will absorb some of the vibration within the cushion and reduce the severity of the vibration it passes on to the packaged product.
For most vibration-sensitive products, making sure that the package design does not amplify vibration in the product's natural frequency is enough to prevent vibrational damage from occurring during shipment. For severely vibration-sensitive products, however, it may be necessary for the package design to actually attenuate the frequencies of concern.
As with shock, there is no substitute for actually testing the vibration characteristics of your design. However, in some cases, vibration performance may be estimated from some knowledge of the vibrational characteristics of the ETHAFOAM* product used.
Typical Forcing Frequencies of Carrier
Carrier
Frequency Range
Conditions
Railroad
2 - 7 Hz (suspension)
50 - 70 Hz (structural)
Moving freight car
Truck
2 - 7 Hz (suspension)
15 - 20 Hz (tires)
50 - 70 Hz (structural)
Normal highway travel
Aircraft
2 - 10 Hz (propeller)
100 – 200 Hz (jet)
On aircraft floor during flight
Ships
11 Hz (on deck)
100 Hz (bulkheads)
Vibrations caused by interference to the flow of water by the ship, and from imbalance and misalignment of the propeller shaft system.
Material response is often given in diagrams similar to those below, which represent performance for a given thickness of material. Note that for any frequency, one can estimate whether the package will perform in direct coupling, amplification, or attenuation mode as a function of the static loading applied to the cushion.
Check the product data sheets for any vibrational response data which may be available for the individual ETHAFOAM polyethylene foam products.
Vibrational performance testing of prototype packages designed with ETHAFOAM polyethylene foam products is one of the services available from our research center. Some size and weight limits apply. For more information, contact our technical staff at (800) 441-4369, or your local Dow-authorized fabricator.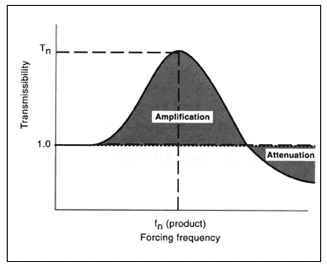 Typical Vibrational Response of a Package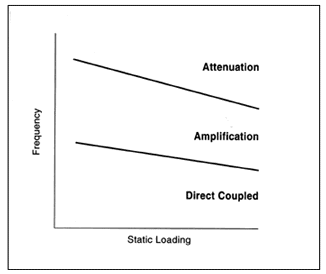 Vibration Response of a Cushioning Material