Aircraft Seating
Quality foam is the leading supplier of aircraft seat cushions, fire-block, dress covers and related components in the United States. All of our cushions are fabricated using a unique hi-speed process. The benefits of this process allow us to produce bottoms, backs, headrests, armrests and leg rests that are extremely comfortable, light weight and very economical. We supply cushions to international and domestic airlines, aircraft seat manufacturers, and aircraft manufacturers worldwide.
Our Engineering/Design department can create new cushion designs as well as work from sample, drawing, or solid model. We can certify the compliance of this design to FAR 25.853 (a) and (c) as well as Airbus specifications.
Our in-house sewing department gives us the ability to fire block the cushions, sew and install the dress cover and ship the completed parts to your door ready to install. This process saves you considerable cost and gives a whole new meaning to just-in-time!
Fabrication
The majority of our cushions are fabricated. The fabrication of foam cushions allow us to take comfort to a new level. The comfort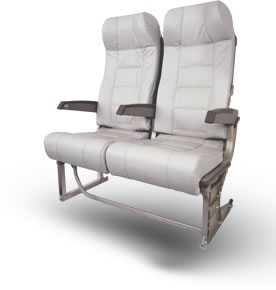 of these cushions combined with our unique high speed manufacturing process makes our fabricated cushions the right choice. All manufacturing is done in our brand new 90,000 square foot facility in California. This facility houses start-of-art CNC machinery as well as foam and plastic thermoforming and pressure-forming.
Ethafoam
DOW ETHAFOAM Packaging Products offer foam solutions that are lightweight and buoyant, making them ideal for commercial airline industry applications. These specially formulated foams contain flame-retardant additives designed to meet the Federal Aviation Regulation (FAR) 25.853 (a) for commercial aircraft interior compartment components.
Plastazote
Special flame retarded grades of PLASTAZOTE foams are able to meet the requirements of FAR/CS 25.853(a) App F Pt I. Additionally, ZOTEK F grades, being inherently non flammable, are able to meet the Radiant Heat Panel test FAR 25.856 (a) App F Pt VI and have low smoke density, low toxic gas emission and low heat release. The new ZOTEK F grades designated ZOTEK F HT offer an additional operational temperature limit of 160°C, an improvement of +50°C over the current ZOTEKF range. They also offer enhanced chemical and solvent resistance, combined with higher levels of structural rigidity.
All of these closed cell foams can be converted easily using traditional foam fabrication techniques such as sawing, routing, gluing, laminating, welding and die-cutting. They can also be thermoformed into complex single component structures providing many benefits over multi-layer foam systems, such as weight and cost reduction.
PLASTAZOTE foams are used in many seating and soft trim areas. The low-density closed cell nature of these foams allows significant weight reduction in seat cushions. Additionally, they are used to provide buoyancy or support in crucial areas of seat cushions, improving both comfort and durability.
PLASTAZOTE foams are used to provide soft touch and energy management around seating areas. These include foam-backed fabrics used around superior seating, seat armrests and crash pads on the rear of headrests
ZOTEK F foams show very low heat-release values, (a requirement for cabin interiors) and may be used in conjunction with other materials, such as leathers, that generally exhibit higher OSU values where 'average' results for material combinations need to be achieved.